MRI researchers say since these species were known to eat the larvae of other mosquitoes, more studies being done to find out whether they could be used in the control of deadly dengue – Malaka Rodrigo 
Two species of mosquitoes belonging to a genus new to Sri Lanka have been discovered, scientists at the Medical Research Institute (MRI) have announced. The mosquitoes of this genus, known as Topomyia, are found in countries like India and Thailand. These species are also known to feed on the larvae of other mosquitoes, therefore they have the potential of being used to control the dengue mosquito, a senior Entomological Assistant at MRI, N.W.G. Premaratna said. However he said more research would have to be done in this field.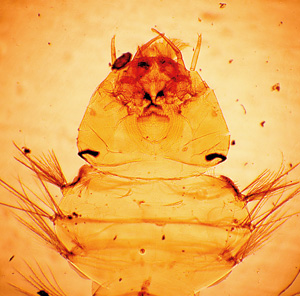 Larvae that revealed new discovery
These specimens were collected from water collected on habarala leaves in the Agalawatte area in Kalutara district. The water also consisted of dengue-mosquito larvae. The researchers therefore believe this could be nature's way of controlling dengue and other disease-carrying mosquitoes. Mr. Premaratna said the MRI team would conduct more scientific investigations before publishing their discovery. They also pointed out that there was very little research done on mosquitoes like many other insect species and that made the task of identification more difficult.
Although people are mostly aware of the existence of mosquitoes that spread diseases such as dengue, malaria and filaria, about 140 species of mosquitoes inhabit Sri Lanka. The Topo myia genus would be the 17th genera of mosquitoes in Sri Lanka. The researchers say based on studies done in other countries, Topolmyia mosquitoes are not known to carry any diseases. Therefore, if the researchers succeed these species could be used as a means of bio control of dengue mosquitoes.
Mosquitoes have been around for more than 30 million years and there are 3,500 named species of mosquitoes, of which only a couple of hundred sting or bother humans.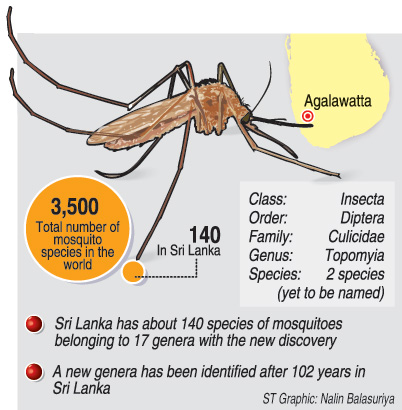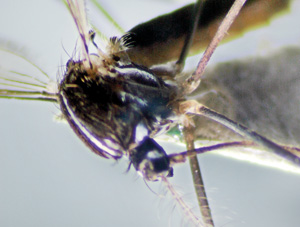 One of the newly discovered species
Published on SundayTimes on 04.08.2013http://www.sundaytimes.lk/130804/news/two-new-mosquito-species-foun...