Erabudu is the flower of the Avurudu season but you will hardly be able to find erabadu these days. Instead, rosy trumpet (tabebuia) flowers bloom, marking the onset of the New Year season becoming the messenger of Biodiversity to announce the dawn of the spring. (photos by Susantha Udagedara) 
This is the famous sakura flower season in Japan with thousands of cherry trees in full bloom. The cherry trees shed their leaves in winter and in spring become fully covered by white or pink blooms, making a spectacular show of nature.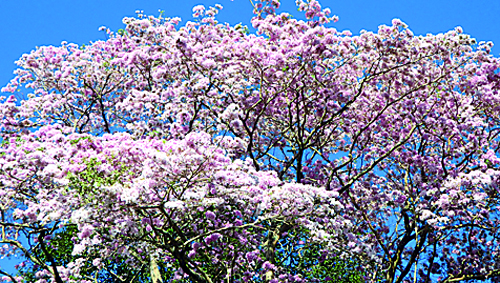 In a similar spectacle, a pink flower started blooming in many parts of Sri Lanka two weeks ago — the blooms of the rosy trumpet, Tabebuia rosea, colloquially known as rabarosia.
Tabebuia usually blooms in February-March; but this time the trees were in full bloom in the last week of March, marking the onset of the Aluth Avurudda. The full bloom is over now, and the trees have fresh greenish tender leaves, but a few flowers can still be seen.
Tabebuia is native to South America and was brought to Sri Lanka as an exotic plant for the Royal Botanical Gardens in Peradeniya in the 1800s.
The Japanese plant sakura trees close to one another so that when they bloom they make a spectacular scene. Our urban planners can think about using the 30-foot tall tabebuia trees in a similar manner. Like sakura, the falling tabebuia flowers make a spectacular scene — the ground under the trees becomes pink with fallen flowers, making it a treat for the eyes. Street sweepers might not like it!
The recent sporadic rains brought flowers to ehela trees and some mara trees that start blooming as Avurudda approaches. But sadly, erabudu – the traditional sign of the season – seems to be vanishing.
Erabudu is the Indian coral tree (Erythrina variegate) and its bright red flower (inflorescence) that resembles a tiger claw blooms from February to April, coinciding with the Avurudu season. Erabudu trees have thorns and grow straight, making them a perfect hedge planting. But nowadays such fences have been replaced by parapet walls.
Sri Lanka gets 300 Sakura Plants 
Meanwhile the Japan Sakura Exchange Association donated 300 sakura plants to Sri Lanka at a small ceremony held at the Japanese Embassy recently. Japanese Ambassador Nobuhito Hobo said sakura flowers symbolised peace and the donation would strengthen the long-standing relationship between Japan and Sri Lanka. These sakura plants belong to a special cultivar called Prunus campanulata cultivar "Yoko", suitable for planting above 1,500m. Some will be set in the grounds of the Hakgala Botanical Gardens.
Published on SundayTimes on 13.04.2014 http://www.sundaytimes.lk/140413/news/newcomer-unfolds-petals-for-n...