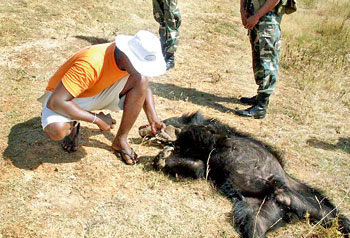 A fully grown sloth bear was killed by a speeding vehicle near the 11th kilometre post on the Panama-Pottuvil road in Sri Lanka late last month raising concerns over the prudence of having public roads across biodiversity rich National Parks, while vehicles speeding along roads in rural areas also drive wildlife to their graves before their time.
The ill-fated bear was found lying on the side of the road with apparent head injuries. The Ampara office of the Wildlife Department had been promptly alerted, but the animal was already dead due to injuries it suffered. The wildlife veterinary surgeon Dr. Pramuditha Devasurendra who had conducted the post-mortem confirmed the animal died due to damage to its skull. There were signs of profound bleeding from its mouth. The bear's fur coat also had mud stains indicating it could have been hit by a heavy vehicle with large tyres.
Dr. Devasurendra also said there were signs that the vehicle has gone over one of the animal's legs. The bear was a well grown male around eight to nine years old. The body of the bear was sent to the Giritale wildlife facility to be stuffed. Samitha Harichandra, the managing trustee of the Wildlife Research and Conservation Trust of Sri Lanka who visited the accident site soon after he was alerted, recalled spotting a bear on the same stretch of road recently while he was driving at night. He said he had seen the bear on two occasions and the ambulance driver of the area hospital too has confirmed sighting this bear indicating the animal must be roaming around the area (a territorial bear) near the 11th kilometre post.

This is the season when the palu and weera berry ripens attracting usually secretive sloth bears out of their hideouts in search of the berries. Mr. Harichandra recalls that there are many weera and palu trees in the scrub jungle on this stretch of the Pottuvil road, luring the secretive bear into the open, making it an unfortunate road victim.
The sloth bear in Sri Lanka is a separate subspecies scientifically categorized as Melursus ursinus inornatus. Their numbers are declining, with them being already categorized as vulnerable to extinction in the IUCN Redlist scale.
Mr. Harichandra says the annual Okanda pilgrim season increases vehicular traffic along this road which becomes a death trap to wild animals of the area. The presence of such a rare animal like the sloth bear is an indication of the quality of the scrub jungle which must be home to many animals.
Harichandra complained that drivers should be more vigilant when speeding on rural roads to avoid killing animals.
He said that as the road network gets better in these areas, drivers tend to speed on long stretches of roads that do not have much traffic. But animals need to move around their natural habitats and require to cross these roads. They virtually have no time to escape from a speeding vehicle, he said.
Slow moving small creatures like tortoises, snakes, and porcupines face the greatest risk when crossing the roads. But even fast movers like civets can fall easy prey at night when they freeze in the middle of the road blinded by the glare of headlights. Some animals like the porcupine have the habit of staying motionless when they feel a threat, making them sitting ducks. Even birds and monkeys can't escape at times from speeding vehicles.
But it is not only the smaller animals that are being hit by careless drivers. On many occasions elephants have also been hit on public roads. In one such incident at Galgamuwa/Ambanpola, a sleepy bus driver hit an elephant at night on the road near the Thekkakele forest. The front of the bus was badly damaged and the conductor was killed in the accident. A few months later, another elephant was hit by a van and the enraged elephant turned on the humans killing a passenger in the van.
Though these elephants recovered with injuries, there were incidents where jumbos get killed in road accidents. At Medawachchiya, a baby elephant of about four months had been killed instantly when it was hit by a tipper. The accident occurred around 1 a.m. and the body of the calf was badly smashed, indicating the vehicle was traveling at speed. Another calf was the victim of a roadside accident at Habarana last year.
It is however hard to provide a solution to such unfortunate accidents as drivers tend to speed in their vehicles on open stretches.
One way to minimize such accidents is by setting up speed limits and placing warning boards in areas where wildlife is abundant. But while wildlife conscious drivers will take note, it is a question whether reckless drivers will abide by the rules.
At present most of the drivers even do not honour the speed limits set up in populated areas which are also frequently monitored by the Traffic Police. It is virtually impossible to set up traffic checkpoints at night so there is little hope that rules would be observed on remote road stretches. Wildlife lovers call all drivers to be vigilant when driving through remote roads.
Roads across National Parks
With animals being killed by speeding vehicles, wildlife activists question the prudence of opening up of new public roads across Protected Areas. A road across the Wilpattu Sanctuary has been opened last year amidst the objections of the wildlife community and there seems to be attempts to open up other roads. Though speed limits are set and traffic allowed during the daytime in wildlife rich habitats, such roads will still be death traps.
There are other dangers for wildlife as a road will increase human presence which will also increase illegal activities. Poachers will get a ready-made market to sell bush meat. More importantly, a public road will also cause a genetic isolation of animal groups between two sides by restricting animal movements. In a free environment, wild animals would mix with each other but a road will halve their movements isolating them genetically or depriving them of their traditional feeding grounds. This will also degrade the quality of their gene pool.
A tortoise run over by a speeding vehicle (c) Samitha H.

The danger of public roads across national parks was in the international spotlight last month as an attempt to construct a commercial road across some parts of Serengeti National Park in Tanzania has been abandoned.
Each year about two million herbivores including wildebeests and zebras make their way from the Serengeti National Park to the Maasai Mara reserve in Kenya.
Environmental activists raised concerns that the new road will restrict the animals' movements and halve the animals in the park. Tagged as one of the planet's greatest natural spectacles attracting thousands of major tourists, the road could have also affected the local economy, in which tourism plays a major role.
The Tanzanian government consequently abandoned the idea of constructing a stretch of 53 kilometres of road to avoid areas of high conservation value.
Likewise, Sri Lankan conservationists also raise the question whether we still need to have roads to make for quicker traveling. If quicker traveling is the need, speed limits cannot be set, ultimately resulting in many road accidents.
Speeding in wildlife parks
Yala National Park has already been infested by the over-visitation bug where around 200 vehicles go in on busy days. The visitors' prime aim is to have a glimpse of Yala's star attractions – leopard, bear or elephant. On receiving a message of a sighting, the vehicles rush to the spot to get a better view.
The safari jeep drivers' often forget they are in a wildlife national park. There is every chance these speeding vehicles too can hit an animal. So if you happen to be in a safari jeep, never allow it to be driven at an uncontrollable speed even though it might cost you a better sighting of a wild animal.
Published on SundayTimes on 17.07.2011 http://sundaytimes.lk/110717/News/nws_79.html