An animal or plant is considered 'extinct', if it has not been recorded for more than a century. The Sri Lanka Emerald Spreadwing (Sinhalestes orientalis) a beautiful Damselfly that had not been recorded for 154 years and thereby considered extinct had made a re-appearance last year. The information about this rediscovery has been published few weeks ago in Asian Journal of Conservation Biology authored by young researcher Amila P Sumanapala and expert on dragonflies M. Bedjanič.
According to Amila the species with its emerald body with yellow markings is easily identifiable. The male damselfly is slightly bigger than the female and unlike other damselflies this species spreads its wings when resting, hence the name "Spreadwing". According to researchers they are found along slow-flowing forest streams. They invariably hang from the tip of a leaf.
There are 120 recorded species of dragonflies and damselflies, collectively known as order Odonata, in Sri Lanka. Of them 57 are believed to be endemic. Damselflies can usually be differentiated from dragonflies because of their thin, needle-like abdomens and by the way they stretch their wings out when not moving. With few exceptions like the Emerald Spreadwing, the wings of most damselflies are held along and parallel to, the body when at rest. The large eyes of the damselfly differ from those of dragonflies as they are separated.
The Peak Wilderness has recently been in the news with discoveries and rediscoveries being reported from this natural habitat which has now been declared a UNESCO Natural Heritage site. Many scientists believe although Sinharaja is the jewel in Sri Lanka's biodiversity, the Peak Wilderness could be home to many more unique fauna and flora waiting to be discovered. However, it has been a difficult terrain to research because of its mountainous, slippery and misty conditions.
Water Pollution endangering  this mosquito-killer
A few decades ago damselflies and dragonflies were in abundance. The insects need a pool of water whether small or big to lay their egg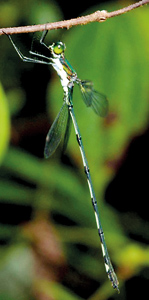 s and for their larval stage.However, their numbers have declined drastically in recent years due to the pollution of water bodies. In the chapter about dragonflies in RedList 2012 by Dr.Nancy van der Poorten and Karen Conniff the writers point out water pollution as a serious threat to this species. As a result of agricultural production, many chemicals end up in the drains and streams where odonates breed. RedList-2012 also cites an example in Balangoda. For the past five years, the stream has become filled with soap and algae due to increased human population and some species of dragonflies that used to be seen there are no longer found in that body of water.
Damselflies and dragonflies are also bio-control agents as they devour harmful insects. Damselflies like dragonflies are predators and feed on harmful insects including mosquitoes in flight. More importantly, the nymphs (larvae) –of damselflies feed on mosquito larvae.
A male Sinhalestes orientalis. Pix by K. Dayananda and D. Randula
Published on SundayTimes on 18.08.2013 http://www.sundaytimes.lk/130818/news/the-return-of-the-damselfly-a...