Push to honour Dr. P.E.P. Deraniyagala for his research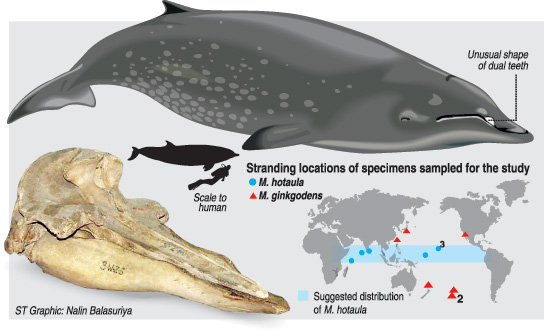 This week, an enigmatic whale first described studying a specimen found in Sri Lanka has been reclassified as a new marine mammal species. The whale species – member of a family known as beaked whales for their elongated beak-like snouts – bears an interesting history.On 26 January 1963 a specimen of a dying 4.5m-long, blue-grey female beaked whale was washed ashore at Ratmalana. After carefully studying its form and structure, marine scientists led by Dr. P.E.P. Deraniyagala (Director of National Museum 1939-1963) declared it to be a new species of beaked whale belonging to the family Ziphidae.
Dr. Deraniayagala named the whale Mesoplodon hotaula for its pointed "beak" (in Sinhala, hota means beak and ula means pointed").The skull of the holotype- the term for a single type specimen upon which the description and name of a new species is based – was kept in the National Museum Collection.Two years later, however, the Mesoplodon hotaula was re-grouped into the related ginkgo-toothed beaked whale, Mesoplodon ginkgodens, by overseas scientists and the Mesoplodon hotaula name was dropped.
Beaked whales are deep divers that are believed to be able to dive to 1,800m (5,900 feet).A total of 22 beaked whale species have now been identified but most of them have not been studied alive in their oceanic habitats. Identification of most have been based on dead or dying whales that have been washed ashore.
As belief began to grow again that the whale found in Sri Lanka was a distinct species, a visiting research scientist at the University of NSW in Sydney, Australia, Dr. Merel Dalebout, wrote to the Director of the National Museum in Colombo inquiring about the possibility of taking a DNA sample from the whale to make comparisons with samples taken from elsewhere in the Indo-Pacific region.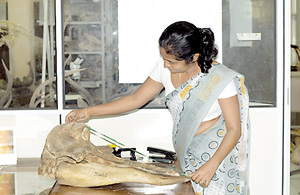 Researcher Dr. Manori Goonatilake inspecting the specimen Deraniyagala collected in 1963
Dr. Manori Goonatilake, Assistant Director National Museum, became involved in the study. With the permission of Department of Wildlife Conservation she had sent the DNA samples taken from the holotype's mandible bone, tooth, and skull using a special hand drill without harming the external appearance of the specimen.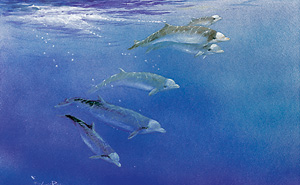 Artist Gamini Ratnavira's conception of a pod of Hotaula. Courtesy 'Mammals of Sri Lanka' by Asoka Yapa/Gamini Ratnavira
The scientists managed to find seven specimens of this species including the Sri Lankan specimen. The haul included three whale carcasses from the United States and one each from the Republic of Kiribati, the Maldives, and Seychelles.
Finally, after a series of DNA and morphological analyses it was recognised that these seven specimens belonged to a distinct species of beaked whale. So 51 years after its discovery off Ratmalana the whale regained its first scientific classification, Mesoplodon hotaula, given by Professor Deraniyagala."Now it turns out that Deraniyagala was right regarding the uniqueness of the whale he identified. While it is closely related to the ginkgo-toothed beaked whale, it is definitely not the same species," Dr Dalebout says in an article on the university website.
It has been suggested that the common name of the species be "Deraniyagala's beaked whale" to honour the late scientist for his finding. This is perhaps the only marine mammal carrying a Sinhala name in its scientific name and is a showcase of Sri Lankan researchers' talent in the field of natural history.
The smelly whale carcasses that wash ashore once in a while grab our attention but are often soon forgotten. This new discovery highlights the Importance of studying these carcasses when they come to light, as studying them in the vast ocean is difficult