Playful baby elephants were half of casualties
View(s):
206
The female elephant calf was thirsty. Standing in the shallows of a water hole at dusk, it hurriedly sucked water into its trunk. It then curled its little trunk toward its mouth in an attempt to quench its thirst but there wasn't a proper mouth to take in the trunk: the calf had lost his tongue; the small, fleshy base of what used be his tongue made a futile effort to guide the water down his throat.
The three-year-old elephant's upper mouth palate had been totally smashed, creating a large wound that was infected. Its jaw and teeth were all blasted and the torn lower lip was rotting, attracting swarms of flies.
This has been the sad plight of victims of the little jaw bombs – illegal improvised explosive devices often hidden in food to explode in mouth when an unwary animal munches them. The bombs are commonly called hakka patas – hakka meaning jaw and patas denoting the sound of a blast.
The veterinary surgeon and team of the Department of Wildlife Conservation's (DWC) Central Wildlife Region rushed to Nildandahinna area in Walapane after villagers told them about the injured calf.
They found it standing on the bank of the Uma Oya, sedated it, cleaned its mouth and provided saline as the suffering animal was weak: it was unable to eat or drink.
The vet, Dr. Akalanka Pinidiya, also injected strong antibiotics against infection in the injuries but he clearly knew the elephant would not survive its wounds.
"It is actually nearly impossible to successfully treat a hakka patas victim," Dr. Tharaka Prasad, who heads the DWC's veterinary unit said. "Our veterinary surgeons are helpless in most cases and can just employ painkillers until certain death ends the victim's agony."
The Anuradhapura wildlife range is one of the worst hotspots for hakka patas. The veterinary surgeon in charge of the range, Dr. Chandana Jayasinghe, said he had encountered hundreds of hakka patas victims during his 15 years of service.
"We saved the lives of only a handful of hakka patas victims, those that had minor injuries," Dr. Jayasinghe said.
Hakka patas are a relatively new threat to Sri Lanka's dwindling elephant population, with the first victims recorded around 2008.
The improvised device is made by mixing gunpowder with tightly-packed small stones or other hard materials. A chewing motion makes the hard bits grind against each other and set off sparks that ignite the gunpowder.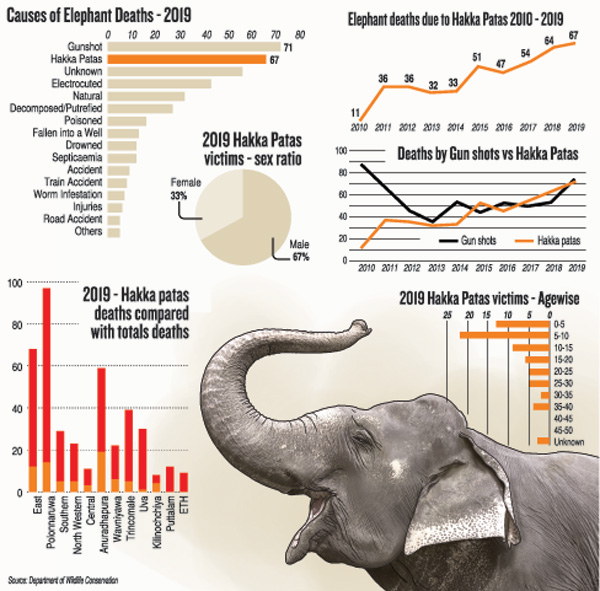 Because the device is tightly packed the pressure makes an explosion. This explosion is usually powerful enough to kill its main target, wild boar, but larger animals such as elephants do not die instantly.
Hakka patas became the main cause of elephant deaths in 2017 and 2018, overtaking the deaths by gunshot wounds. In 2019, out of a total of 395 elephants killed, hakka patas deaths were high as 67, only four fatalities short of the 71 gunshot deaths.
Data from the wildlife department shows a sharp decrease in elephants dying from gunshots in 2010-2013 and a sharp increase of hakka patas mortalities during the same period. These deaths have kept increasing.
Last year, 67 elephants fell victims to hakka patas and, tragically, half – 35 – were less than 10 years old.
Hakka patas deaths are the main cause of deaths for elephants less than five years of age: 14 baby elephants less than five years were victims of hakka patas last year, 13 of them being male. Elephant experts point out that male elephant babies are more playful and curious about their surroundings.
In 2016, a 10-year-old boy in Hambegamuwa died when a hakka patas exploded in his mouth. On several other occasions, children playing with hakka patas laid for animals suffered injuries when the devices exploded.
It is not easy to apprehend the culprits who set these explosive devices, DWC Director-General Chandana Sooriyabandara said.
"When an animal is killed using a gun or poison, poachers leave some traces but in case of these explosive devices, it is extremely difficult to trace culprits as the victims are often found in a different area from where the devices were placed," Mr. Sooriyabandara said.
Also, unlike when using a gun, it is easier for offenders to hide or throw away these little devices when they encounter law enforcement officers, he added.
Elephant researcher Dr. Prithviraj Fernando stressed that the issue must be addressed both from elephant conservation and anti-poaching angles since these devices are mainly set up for wild boar.  
"The only way to address the issue is to use peer pressure to try to stop poachers from using this inhumane killing method," Dr. Fernando said.
The Centre for Environmental Justice conducts a number of awareness campaigns in hakka patas hotspots for schoolchildren, using temples as venues, to raise awareness of the agony of deaths caused by these disguised explosives.
Experts say the problem could be alleviated by using intelligence networks in villages. Hakka patas cannot be made by everybody: there is a technique to making them and only a few people in a village would have the skills; most often, other villagers know who is responsible.
It is suggested that police or the Civil Defence Force to be authorised to set up such intelligence networks.
Jaw-breakers endangering lives of children and pets
Jaw bombs used to harm elephants could also end up being a social issue, activists warn.
Children and domestic animals including pets are falling victim to the small explosive devices called 'hakka patas'.
Recently, a four-year-old pet dog suffered fatal injuries.
Laura, a playful female German Shephard, owned by Amila Sanjeew who lives in Passara, Badulla, had raised the dog in  his wife's home in nearby Madolsima village.
On February 17, they had ignored what they thought was a firecracker blast, but the following morning they found Laura lying in a pool of blood at their front door.
They rushed the dog to a veterinary surgeon. The dog's jaw was shattered in four places, and the tongue damaged. Steel rods were used to fix the jaw in a five-hour surgery.
Laura appeared to be recovering but she began bleeding from the nose and started to show signs of paralysis. Her condition worsened and she died on  February 27.
The explosion is believed to have damaged the brain as well.
Hakka patas is not uncommon in Passara.
Sanjeew believes that someone had planted the hakka patas to harm the dog, which usually would not stray further from their garden. "She likes to play with balloons. There were pieces of a balloon in the roof of the jaw. The device had been set up in a balloon," said Sanjeew.
Hakka patas is a small improvised explosive device made of gun powder and small particles like rocks mixed and tightly packed like a potato. Hidden in food, the explosives are often used to kill wild boar and other animals, but causes collateral damage.
It is only last week that the Sunday Times reported that hakka patas had become the leading killer of elephants in Sri Lanka, accounting for 67 deaths in 2019.
It is mostly elephant calves that are less than 10 years old that suffer, but there also incidents of humans being wounded.
These jaw breakers have wounded children, sometimes fatally.
A 10-year-old boy died in Hambegamuwa in 2016. The boy had tried to bite into one, a media report said.
On February 3, in Deraniyagala, an eight-year-old boy suffered severe injuries to his arm after dashing a hakka patas on a boulder. His 11-year-old sister was also injured.
Both had been  admitted to Avissawella Hospital and the boy was later transferred to Colombo General Hospital.
In October last year, in Wanduramba in the Galle district, an eight-year-old girl was wounded in an explosion along with her brother. She had been playing with an object she found.
A suspect was later arrested with hakka patas.
Meanwhile, the Janasansadaya people's forum, through a video on their YouTube channel reveals information about a 30-year-old woman, Mala Ranjani in Ingiriya who had lost her hand due to a hakka patas explosion in 2015. Her daughter had found the explosive on their land. Ms Ranjani had tried to prise it open with a knife and it had exploded.
There are wildlife poachers too, who have lost their fingers while attempting to make or setup hakka patas.
Domestic animals like cattle are among victims.
According to Hemantha Withanage of the Centre for Environmental Justice (CEJ), villagers often know who makes these explosives.
Sri Lankans should act fast before it causes widespread damage, he said.